A Gastropods Guide to: Gastronomy, Art and Culture in Eugene


If you live in Eugene, you know that the slugs around here love to enjoy he local food and produce and have no problem boldly laying down a glittering iridescent trail to let you know exactly where they have been!
The SLUG QUEENS have created their own SLUG TRAIL to let tourist and locals alike know just where to find the local royal jewels! Just follow this guide to Eugene's finest, most creative hot spots where you may be surprised to find Slug Queen themed confections, art and other unique Eugene goodies.
Slug Queen Favorite Coffee stops

Slug Queens move a bit faster than your average slug. Here's the secret: Legendary NW coffee starts right here in Eugene!  Wandering Goat Organic Coffee (541 520-9439) created a Royal Slug Queen Coffee Blend to honor the queens, and they roast their own coffee right on the premises.
The SLUG Queens also give their royal stamp of approval to Hideaway Bakery for a lazy morning with the dog and paper, The District where you can compare Portland's famous 'Stumptown' coffee to Eugene's own 'Wandering Goat',  Mid Town Market Cafe perfect spot to meet over a latte, and Supreme Bean Coffee Company a bright cheery cafe carrying baked goods from Sweet Life and Kakua Chocolates!
Eugene Cafes and Nibbles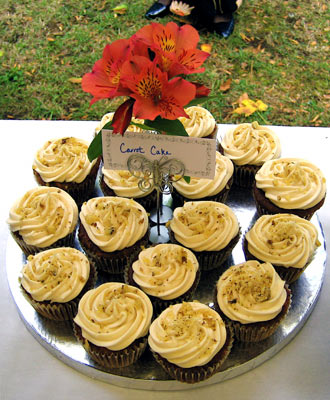 Divine Cupcakes
Marche Provisions
Nib Dessert and Wine Bar, 769 Monroe St. 485-1269 artisan Kekau Chocolatier- Shane Tracey and his wife Tiffany opened the little red door of their most recent endeavor…Nib Dessert and Wine
Bar, a charming and relaxing escape. Be challenged by Shane Tracey's adventurous flavor pairings — chanterelle mushroom tort, for instance, or pumpkin pie with maple caviar. Or how about an orange soufflé with passion fruit sorbet?
off the waffle Sweetly crunchy on the outside with a doughy interior, the authentic Liege-style waffles from the new Whiteaker spot — Off the Waffle (740 Van Buren; 606-4348) are served in a paper sack as to-go street food, as they traditionally are in Belgium.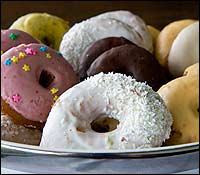 Holy Donuts vegan, gluten-free and still delicious. For about a year now, Karen Nunley has owned and run Holy Donuts, which produces doughnuts and pastries free of pesky ingredients like dairy, gluten, trans fats and cholesterol.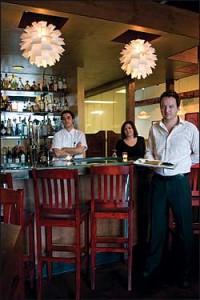 The Rabbit Located in the Woodfield Station business complex at 29th and Willamette. The menu explicitly states "No substitutions" and "No ketchup." While Musgrave acknowledges that some people might have trouble with this concept, she quickly points to its benefits: keeping prices affordable by wasting less food (substitutions = less efficiency, y'all), and putting more control in the hands of chef Gabriel Gil, who recently left Red Agave to commit full-time to The Rabbit.
Sweet Life Patisserie 755 Monroe Street 541-683-5676
Sam Bond's Garage
Territorial Vineyards 541.684.9463  907 West Third Avenue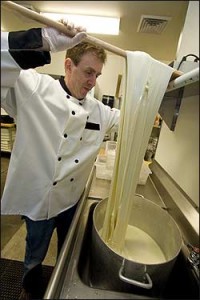 La Perla produces pizza in the style traditional to Naples, where pizza originated in the 1600s. It's a craft closely governed by the Verace Pizza Napoletana ("verace" is Neapolitan slang for authentic). The VPN has codified every ingredient that
comes together to produce Neapolitan pizza, from the design and temperature of the 100 percent wood-burning oven to the toppings and the ingredients of the crust they are baked onto. La Perla Pizzeria Napoletana, 1313 Pearl Street, is open from 5 pm to 10 pm daily. 686-1313; www.laperlapizzeria.com
Shopping
Gifts Guide