So, are you ready to be queen?
Contact: theslugqueen@gmail.com for more info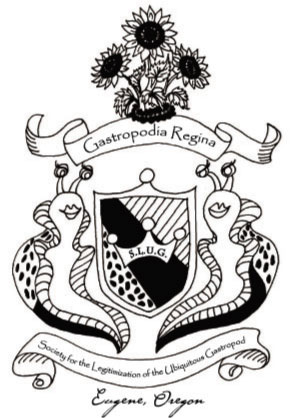 …But HOW, you ask, do I become Queen?
Well, we can't, of course darrrrling, TELL you how to be a QUEEN. You either ARE, or you aren't…but to win the title and the crown and your proper place in SLUG Queen and Eugene History you must prove yourself to be made of slippery stuff– starting with an application. If you have ever dreamed of being the SLUG Queen (and who hasn't?) here's a primer on how past queens have achieved the crown and the glory (edited from the Eugene Weekly article by Danny Cross):
Getting Slugged
Outside of Eugene the title of Slug Queen probably doesn't sound very glamorous — disturbing, disgusting, possibly offensive, but definitely not glamorous. In Eugene the Slug Queen reigns supreme and at the Eugene Celebration, the city's pinnacle of self-adoration, the Society for the Legitimization of the Ubiquitous Gastropod (SLUG) will parade the freshly crowned Slug Queen.       "It's so wacky and so fun," said Old Queen Marigold Gastropodia (Emily Semple, 1991 winner and current graphic designer). "Eugene is a pretty alternative place so we should have an alternative beauty pageant." The process that crowns each year's winner is a little like the formal pageants that decide other cities' unofficial ambassador. But the title of Portland's Rose Queen alone sounds snobbish and snooty compared to her lighthearted Eugene counterpart. To reign supreme, Slug Queen contestants go through a three-part competition that involves the judging of one's costume (based mostly on its gaudiness), a three-minute on-stage talent performance and a single question designed to test the quick thinking ability and wit of each contestant.
"It's kind of an odd way to get into a club," said Queen Gastropodia, "To get up on stage and make a fool of yourself." The Slug Queen is chosen by a collection of past queens officially referred to as "old," not "former" queens as is usually the custom. One never loses the prestigious title — she (or he) just grows older with it.

There's one more very important aspect that sets the Slug Queen apart from other beauty queens: Bribing of the judges is accepted and encouraged. Yes, the moment a new queen is crowned, the doors of the old queens are open for bribery. Sluginsky bribed the judges on the day of her pageant with pizzas topped with fake slugs, donated and delivered by Track Town Pizza. She remembers one queen bribing her and other old queens at a hospitality room at the Hilton and disbursing bottles of wine with Slug Queen labels. "What the bribe actually indicates is that the contestant can organize something and go the extra mile," said Sluginsky. "It's not really the fact that we need stuff or that we're greedy. It indicates a real desire to be queen." "I'd say that a creative bribe will get you further than an expensive bribe," says Queen Gastropodia. "You don't have to be rich to be queen. But we do like chocolate."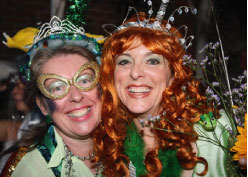 The judges are looking for originality. They're looking for someone worthy of being one of them — creative, flamboyant and outgoing. After all, the competition is about diversity. "One of the things we do really well is that we really are sincere about diversity," said Sluginsky.