Queen Scarlett O'Slimera
Simply Subslime in 2004
She was the queen of the ball, the siren of the slime. And, frankly, Scarlett, FOOD for Lane County didn't give a can. But it will accept them. And that's the idea.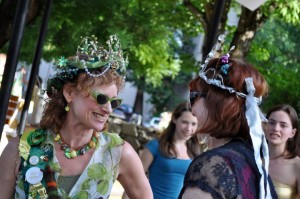 Eugene's 2004 reigning SLUG Queen, Scarlett O'Slimera, hosted her Queen's ball at the Veterans' Memorial Building as a benefit for FOOD for Lane County. But she hasn't stopped there. This southern belle has kept her ball rolling by campaigning against hunger at every opportunity. At her coronation, Queen O'Slimera – aka Joan Cypress of Eugene – promised that "as God is my witness, there will never be hunger for food, frolic or fun" on her watch for the Society for the Legitimization of the Ubiquitous Gastropods.
Seems she's keeping her promise.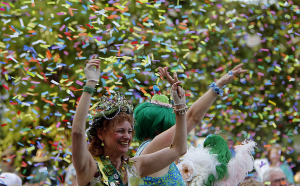 "I'm hoping to benefit the whole community … by doing random acts of kindness," the queen said in her Nashville twang, dressed in a "Gone With the Wind"-like gown.
As if channeling her Vivien Leigh alter ego, Queen Scarlett can make things happen with her sheer determination, sassy charisma and homespun pluck—like becoming Slug Queen for instance. When Cypress found herself in costume, with her 9 member Slug Queen entourage (including a dog and child), trapped in an elevator for 30 minutes just before she was due to compete on stage for the crown and title, she declared in true Scarlett fashion: "Fiddle Dee Dee! I can't think about this right now. If I do, I'll go crazy. As God is my witness, they're not going to lick me. I'm going to live through this and when it's all over, I'll be Slug Queen. If I have to lie, steal, cheat or kill. As God is my witness, I will be Slug Queen!!!"
Just minutes before her bid for Slug Queen was "gone with the wind", the fire department arrived and pulled Scarlett and her crew to safety. After a mad dash to the event she stole the show at the coronation stage. Literally, she stole the show. When she exceeded her time allotment for the talent portion of the competition, she was bodily lifted (for the second time that day) and carried off by Queen Bananita, while screaming, "There are no rules!" And that is a mantra she lives by.
Queen Scarlett also holds the distinction of being one of only two Slug Queens that qualify as a work of art. Disguised as a Fairy, she appears twice on the late distinguished artist/photographer David Joyce's wall of "flyers," at the Eugene airport. Her lovely visage greets travelers at the start AND finish of the art piece. Being only one of two people to hang on the wall twice! (She and Fairy Shawn Fontain share that honor.)
An avid supporter of the earth and all things green (a slug needs to keep it green and leafy), Queen Scarlett has donated generously to BRING recycle. To learn more about following in her slimy trail see: http://www.bringrecycling.org
<–Royal Predecessor Royal Successor–>