Queen Slugtoinette
The Queen of All Media…
Viva La SLUG Queens!
The venerable Old Queen Slugtoinette (aka Marketing Director, Constance Van Flandern), credits her win to the "execution" of her creative bribes which included taking the title of Slug Queen from local mythology to marketable Eugene brand recognized even by the formidable Wall Street Journal–and, of course, not losing her head during the performance of her over the top original parody song on point about Eugene political slime.
It all started a year before Slugtoinette decided to make a run for the crown but couldn't find a single article or contact for the Slug Queens on line. Believing this was a huge missed opportunity for the city to promote it's fun quirky side and a platform from which to bond the old hippy guard of Eugene with newcomers looking for some fun and direction, Slugtoinette began a committed campaign to create the Slug Queen Brand and cement her place in Eugene history.
How did she do it? First she pounded the pavement introducing herself like a mayoral candidate to business owners, artists and politicians alike. She coaxed over 20 local businesses to create products and services related to Slug Queens and put on a map called "the Slug Trail" connecting Eugene Businesses with each other while promoting the newly created 'Brand" of the Slug Queen.
Some of these fabulous slug products included Slug Queen Wine by Terriorial Vineyards (with label designed by Slugtoinette), Slug Queen Blend Coffee by Wandering Goat, Slug rolls and cakes by Sweet life and Hideaway bakery, Slug Queen banana slug ice cream by Prince Pucklers and Slug Queen for the day beauty treatment by Gervais!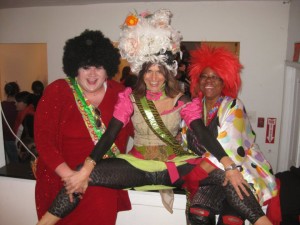 Wanting to involve artists to help create the iconography of the Slug Queen, Slugtoinette devised the
Slug Queen Art Salon
with over 60 artists (mostly local but some from SF, NYC, and Seattle) at the New Zone Gallery in West Broadway which also featured a huge historical retrospective of the previous 25 years of Slug Queendom including crowns and costumes of many of the Old Queens.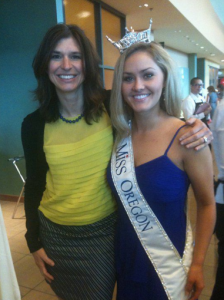 But, she had just started! In order to add more regal props for proper royal ceremony that could last, Slugtoinette designed to replace the old wooden stick scepter with an Official Bronzed Slug Queen Scepter. She asked UO Sculpture Jeff Wetzel to create the final sculpted piece which was paid for by donations from local businesses like the KIVA and the maker of garden slug salts SLUGGO! Her community arts out reach also resulted in the annual creation of a beautiful Glass slug for the winning slug queen from the stunning Eugene Mazet glassworks.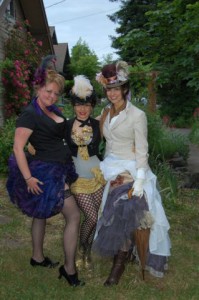 Slugtoinette had now generated enough press from her slug queen related activities to generate a few front page register Guard article which she used as a spring board to create the first ever entry of the Slug Queens on Wikipedia –and then spent the subsequent year in a long struggle to confirm that the article was deserved as an actual character of note. By year's end all question were dropped and the Slug Queen became an official celebrity according to Wikipedia… and thus available for world wide discovery. The Slug Queens had broken our of the garden!
In her media campaign Slugtoinette also acquired of the website name "slugqueen.com" and then proceeded to full this very site with links to articles, upcoming event notices, downloadable applications for future queens for easy access, the most detailed definitive historical account of Slug Queen history anywhere written by Slugtoinette herself after 6 month of deep research and interviews of every queen she could talk into a very long afternoon tea or two.
Relentless on the street gorilla campaigning, Slugtoinette hit the sidewalks with lowcost PR stunts including sidewalk chalk direction to the website, wood paintings with face cut out of slug queens for the public at the Saturday market and various street corners to spread awareness of the brand, Slug Queen temporary tattoos handed out everywhere and the popular large glossy posters continue to design.
All of this was BEFORE Slugtoinette won.
Her creation of the brand, and relentless promotion in order to elevate the brand, subsequently gave the queens a stronger platform on which to support the important local causes each queen feels passionate about (Food for Lane County, Greenhill, Birth to Three etc..) and allowed them to become a stronger more visible advocates.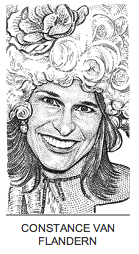 By the end of 2008 even the Wall Street Journal officially recognized her extraordinary efforts and immortalized her with a 'Hedcut"– a specialized drawing on the cover of the Wall Street Journal and accompanying full page article about Eugene and the Slug Queens… and even a video of her coronation on THIER website!
Since winning the crown, Slugtoinette has organized several events and fabulous balls raising thousand of dollars for local charities.
She brought the Slug Queen Brand to the more mainstream public by working Slug Queens into events usually reserved for the more conservative Eugene citizens.  She even designed the Award Winning "most Creative" tree at the Valley River Center's annual Festival of Trees!
In the winter and spring 0f 2011, Slugtoinette worked very closely with Eugene Parks and Open Spaces to cross promote the Slug Queens and the new Washington Park Spray and Play park which opened to great success this July. She raised money from the queens themselves , organized the Slug Queen promotion and entertainment at the well attended public opening and worked with beloved artist Betsey Wolfson on personalizing special Slug Queen slug tiles for each donating queen. The resulting tiles are a wonderful historical marker reinforcing the commitment of the Slug Queens to give back to the City we love and support.
Most recently, in the summer of 2011, Slugtoinette worked with City organizers and local Clothing Boutique Deluxe and Redoux Parlor to secure a brand new platform for the Slug Queens to strut their stuff– the catwalk! Although initially reluctant because Slug Queens do have a reputation for unpredictable spontaneity, the city agreed with Slugtoinette's encouragement that the slug queens style and full throttle Eugene Passion were an asset to the Fashion Show and have asked them to return in the future.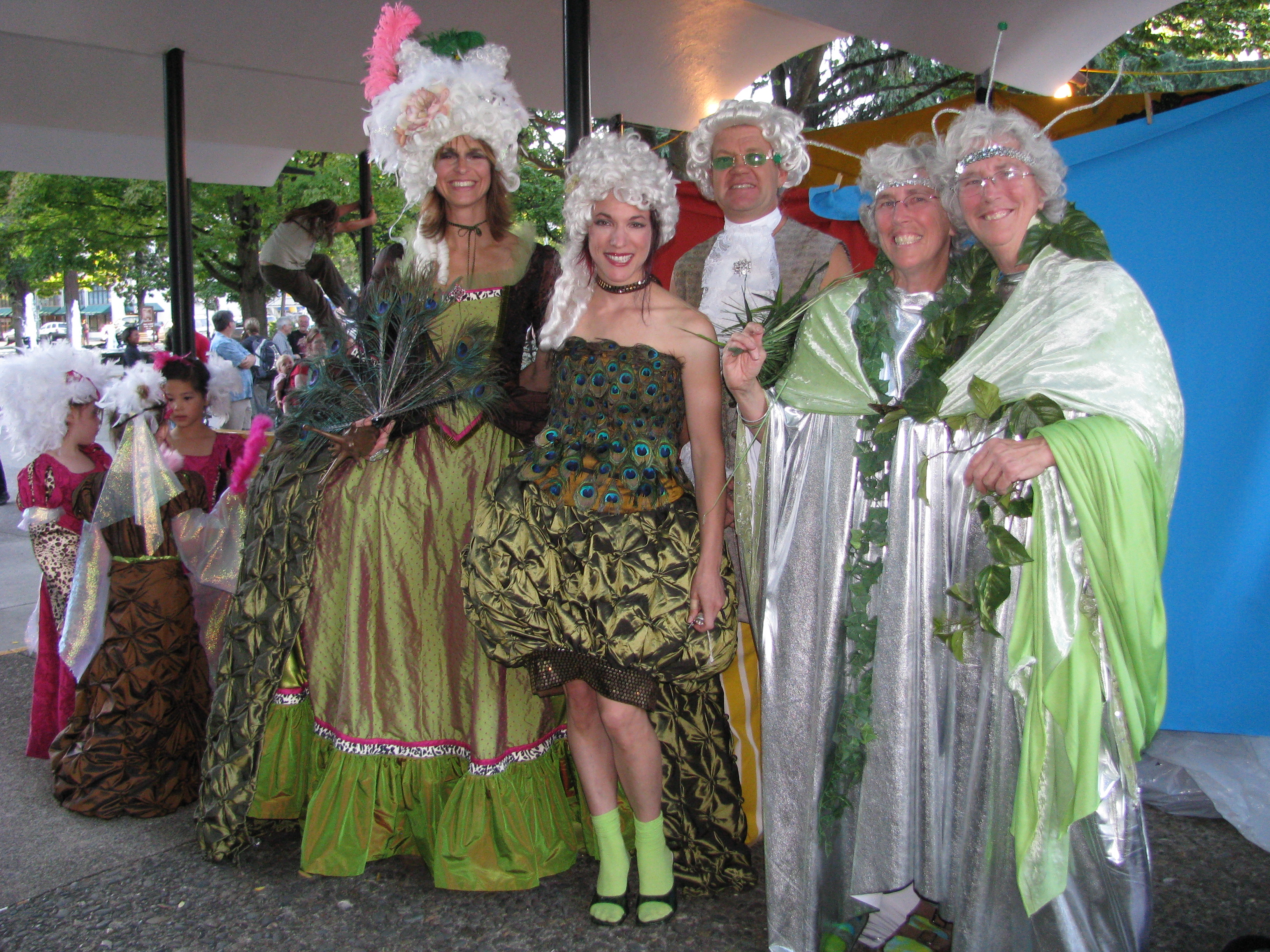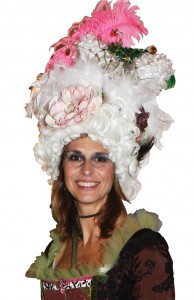 Queen Slugtoinette thought her intense bribes, complex sluggy dress complete with slime trails, and comic song routine would make being crowned a piece of "cake"—but after all her hard work she was nearly toppled by a spectacular performance by the Sluggy Diva "Lady Slugdiva" who rode in on a slug spotted horse and channeled Janice Joplin in a sultry slug lace version of "SummerSlime". Vered! (Her greener version of the French "mered"!) A nail biting moment ensued before the victor was announced and Slugtoinette was officially crowned. Drama!
Slugtoinette wore an exquisite handmade gown designed and stitched by UO professor Margery Taylor, to echo the over the top drama of Marie Antoinette's fashion with a Sluggy and camp twist. Made with over 30 yards of satin and taffita fabrics in mostly slug browns and greens, the gown was trimmed with slug like animal print, vibrant hot pink and lots of irridecent "slime". The homemade panier understructure gives Slugtoinette 45″ wide hips and the triple-decker wig she sewed together and festooned with slugs, slime and jewel encrusted creepy crawlies from the garden sets her at nearly 8 feet tall. Her 8 feet trail of slime was lifted and carried by her petite slugettes who wore sluggy princess dresses designed from the left over fabric of the gown.
You might remember Slugtoinette's alter ego, designer Constance Van Flandern from her work coining the term Alpha Mom" for a branding project in 2003…
or for her comprehensive branding work for the critically acclaimed Children's Furnishing Boutique in Seattle, WA. called "tottini" or her years as a designer for film and television in New York where she designed props and sets for Comedy Central and Nickelodeon –even for Animal Planet's "Pet Psychic"! (Did the Pet Psychic know about the Slugs in her future?)
Of course, she occasionally found herself on the other side of the camera, like in the Stephen Colbert and Paul Dinello short film "Shock Asylum" (1997), or a dozen episodes of Comedy Central's Upright Citizen's Brigade with Amy Poehler, or Exit 57 with Amy Sedaris, Dinello and Colbert.
But it wasn't until she moved to Eugene in 2002 that she really discovered the "Slimelight". Once she oozed her way to the mic she had to be pryed off it by the Old Queens as she exceeded the 3 minute time limit (the exception to "NO RULES" rule that makes it a rule) to her song medley.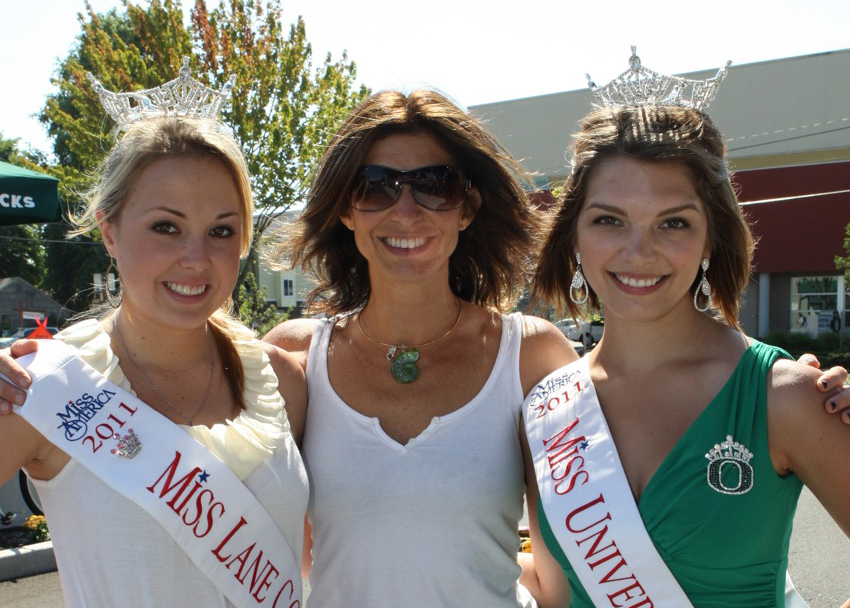 <–Royal Predecessor