Every slug knows: all that glitters isn't from Tiffany's… Queen Holly GoSlugly laid down a shimmery trail of slime that lead straight to her coronation 2011.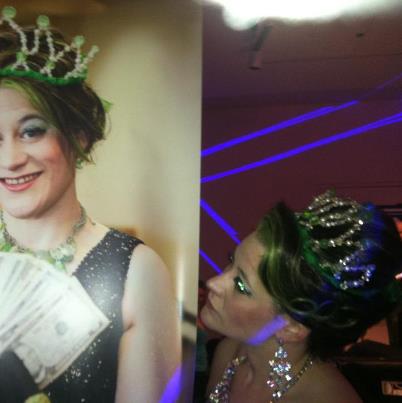 Queen Holly GoSlugly, also known as Debbie Williamson-Smith, found royal inspiration for her alter ego and coronation gown in the Breakfast at Tiffany's socialite Holly Golightly."
"I saw the movie when I was younger. I saw this beautiful woman and these beautiful black dresses and parties, and she had a cat!" said GoSlugly. "I just wanted to embrace that persona and bring her into the SLUG Queen world."
It only takes a glance downwards to find the gastropodic twist to Queen GoSlugly's jet black fashion staple—an oozing green organza skirt. GoSlugly's unique blend of ritz and kitsch has been her guiding principle during her 'rain'. From her bribes neatly tied in fancy little packages to her out of the box parody of Lady Gaga's "Born This Way", GoSlugly slimes the fine line between class and sass.
That she has a passion for the arts is an understatement. Williamson-Smith, who is a Sheldon High School alumnus, grew up going to operas, ballets, art museums and, of course, the Eugene Celebration Parade. That's where she first saw the SLUG Queen riding by on her float. "I was more about the queen part than the slug part," she said of her initial fascination with Eugene's unofficial royalty. "Any time you can incorporate glitter into your wardrobe, it's a good thing, right?"
She first ran for queen in 2010, when she made a spirited but unsuccessful bid for the crown. "I suffered from costume issues," she said. "If you look back at photos, it's like one of those Sesame Street songs, 'One of these things is not like the other.' There's crazy green, someone had mops for a bra, and then there's me in a long black evening gown.
The crown alluded her that first year. Undeterred, Williamson-Smith started campaigning immediately for the 2011 crown. And she means IMMEDIATELY! She began with her first bribe to Newly crowned Queen Slugasana on the very day of her coronation. Throughout the year, she met with Old Queens, and even crashed a secret SLUG Queen meeting with a slug-shaped cake. Sweet.
Take two: but what to wear? "A lot of people were like, 'You need to be more green,'" she said. "But Audrey Hepburn is the little black dress. I'm not going to let go of the little black dress. So I ignored the advice about going all green.
Williamson-Smith then discovered her inner drag queen at sequinqueen.com, a drag custom dress site. She designed her winning royal costume as a black gown, covered in thousands of sequins with a cascade of green frills. The fab frock also sparked a change of attitude. "Debbie's pretty conservative, and probably focuses a little bit too much on what people may think of her," said Williamson. "So Holly's a great escape- carefree girl who accessorizes everything with big jewelry and glitter.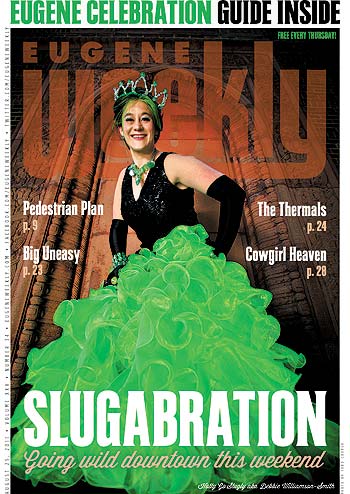 GoSlugy's entourage of sluggy attendants (including her husband, Scott, in drag) kept her eyes on the slime. By the end of the day, she had the crown and a public platform for her passion: to promote the local arts. By day, she is the communications manager of the Jordan Schnitzer Museum of Art (JSMA), which is also her official charity as SLUG Queen.
"As we're watching the economy struggle, public school systems are cutting arts from their programs," said Williamson-Smith. "And one aspect of the Jordan Schnitzer Museum of Art that I'm most proud of is our response to this dilemma. People may not realize how much outreach we do at our expense so that kids can still get that exposure to art when it's pivotal to them. If you can give children art when they are young, they'll carry it forward."
Williamson-Smith's favorite part about Eugene is the diverse creative diversity—from the campus to the downtown area to the Whiteaker neighborhood. "It's about this 'come as you are' attitude," she gushed. "You can really be anyone you want to be here. You go to the Hult Center, and there are people in tuxedos and people in tie-dye shirts and shorts."
GoSlugly's reveled in her supporting role at the First Friday Art Walk, the Susan G. Komen Race for the Cure and many other arts and charity events. She broke a SLUG Queen fund raising record with her Gala, "Holly GoSlugly presents Midnight In Manhattan" at the JSMA. The event benefitted JSMA's education outreach programs.
"Once you're a queen, you're always a queen. I wanted a character I could age gracefully into," she said. "A few years down the line, when no one remembers my name, I'll be known as the one in the great black dress."