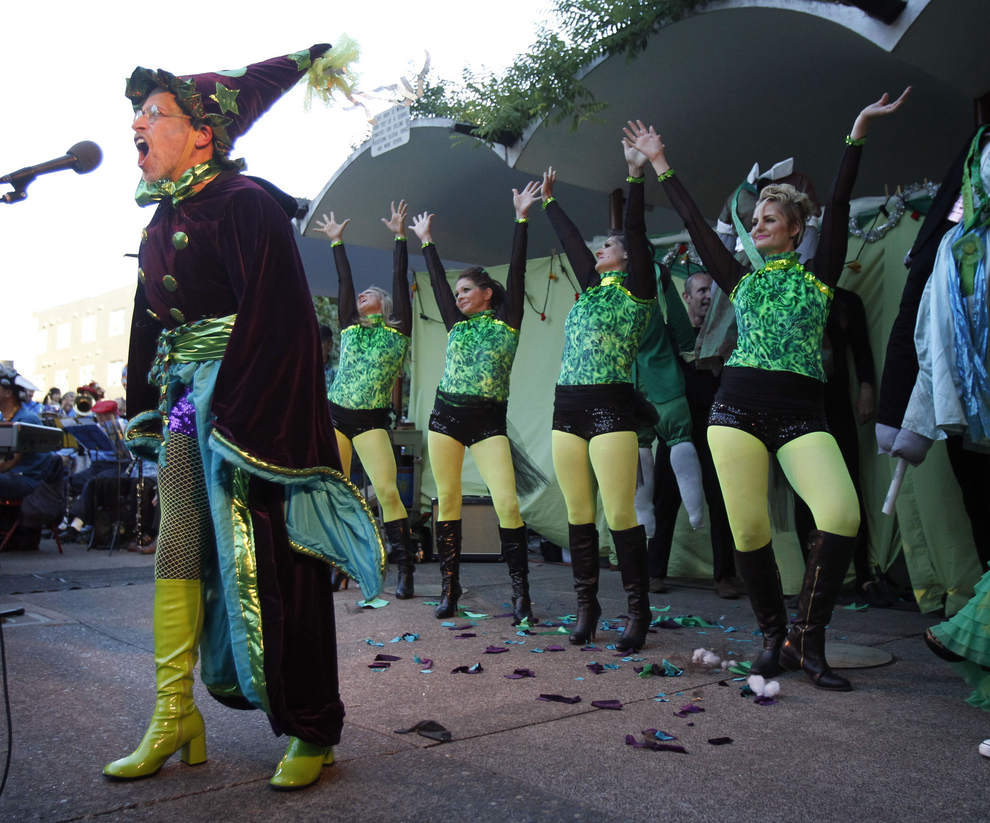 Borson, a software developer at EWEB who also performs in local theater and has done some stand-up comedy around town, has been a regular contestant in recent years. Last year, he was the first runner-up wearing the same purple and "slime green" Harry Potterlike wizard getup,
behind the 2013 queen, Professor Doctor Mildred Slugwak Dresselhaus (aka Brandy Todd), who bequeathed her slug scepter to him.
Borson's performance during the talent portion of the event secured the victory for him Friday. Backed by a host of women dressed in green and black, and a statuesque sidekick he called "Slimeantha Stevens," Borson belted out a song to the tune of Queen's "We are the Champions" that had the crowd of about 350 providing a thundering applause.
I've paid my dues/Time after time
I've written my song/In blood, sweat and slime
No more a loser/'Cause I'll be the SLUG Queen …
Of Eugene!
Borson's first win, though, comes in a year when the Eugene Celebration has been canceled for the first time in the events history. The SLUG Queen, sponsored by the Society for the Legitimization of the Ubiquitous Gastropod, has been part of the annual celebration since the first event in 1983. Borson, however, will get to ride high in the annual Eugene Celebration Parade on Aug. 23, which is still happening.
"Oh, well, Eugene doesn't need a Eugene Celebration to celebrate, now do we?" a bespectacled Borson said, still speaking in character. "We're Eugene, after all."
He said he fully intends to make an appearance at the celebration's replacement festival, the inaugural Festival of Eugene, on Aug. 22-23, if organizers can still pull it off. An anonymous $10,000 donation that was announced earlier in the week, that would have provided the remaining funds necessary, has apparently fallen through.
On Friday, some of the old queens poked fun at Kesey Enterprises, the private company that has run the Eugene Celebration in recent years and announced its cancellation in early June, saying there was not enough space left downtown because of recent revitalization.
Queen Bananita Sluginsky (aka Sarah Ulerick), Friday's master of ceremonies, read a fake telegram she concocted and attributed to Kit Kesey, Kesey Enterprises' owner.
"Way sorry about the whole celebration thing this year," she read in her Russian accent.
"Like, man, I woke up one day in May and said, whoa, what happened to the vacant lots for partying? Whoa. So, like, I'm on the road with Further, you know, the bus …"
Several of the queens said rumors are that Kesey, the nephew of the late author Ken Kesey, is traveling cross-country this summer on the Further Bus 50th Anniversary Tour, a re-creation of the infamous 1964 trip by Ken Kesey and his band of Merry Pranksters. Kesey could not be reached Friday to confirm the rumor.
Follow Mark on Twitter @MarkBakerRG . Email mark.baker@registerguard.com .